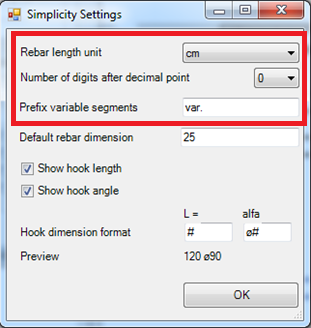 ---
Simplicity Dynamic Reinforcement Details

v. 2018  r. 2.3.0 - Compatible with Revit 2018
---
What's in Simplicity 2018 rel. 2.3.0:
New tool for rebar details setting. Now you may set your preference about: 

rebar length unit 
number of digits after decimal point
prefix to use for variable length segments
default rebar dimension
hook dimension format
toggles for select display hook options
Representation of details, now is possible:

choose real or scaled representation of details
set the default rebar dimension to change length of simplified details
The representation of hook has ben strongly improved.

now aligned to rebar segment.

your preferred text representation combine length and angle.

set Hooks annotation visibility through the instances parameter
New tools for checking details, now is possible:

find and remove un-linked details
discover which and how many details are linked to 3D rebar

New tool for easy managing system family

list family and type
list family instances in the project
update Simplicity system family to properly use the App

 Several bugs fixed.
---
Simplicity Dynamic Reinforcement Details

v. 2018 - r. 2.0.0 - Compatible with Revit 2018

available on Autodesk App Store 
---
Description
Simplicity helps you to create drawings of reinforced concrete structures. Enter the 3D reinforcement with Autodesk® Revit® tools, then Simplicity makes it extremely quick and easy.
Add reinforcing details dynamically linked to Revit rebar. The details represent the shape of the bars and other main dimensional characteristics
Add annotations to reinforcement details dynamically linked to the Revit rebar. Annotations are connected to reinforcement details and indicate the main rebar characteristics.
Create convenient summary tables
Every detail is dynamically linked to the Revit rebar. Changing the rebar, changes the details, so the design remains consistent. 
Maximum flexibility
Simplicity can insert both built-in families and external families in the document. A powerful tool creates the reinforcing details needed to represent linked rebar, when appropriate families are not defined in the document.
Trial version
The trial version is 30 days' full version. Upon expiry of the trial period, the app works in free mode. In the free mode are enabled all the features of the full version except for dynamic update commands (automatic and manual).